I want to give a big thank you to sweet Dana of 3rd Grade Gridiron for giving me the Versatile Blogger Award. If you haven't checked out her blog, head on over and see what great freebies and ideas she has.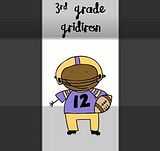 Okay, so now seven things that you probably didn't know about me.
1. I just finished my first 5k race yesterday, and boy am I sore. I have been training for two months, but racing is very different. I am likely going to begin training for the Disney Princess Mini Marathon in February. I need some fantastic motivation to go running in the winter.
2. I hate winter.
3. I just kicked a terrible addiction to Coke Zero. For years it was all I drank. Ever. Now it is mostly water. On Friday afternoons I will splurge in order to get that extra kick to finish my Friday afternoon school tasks.
4. I hate being outdoors. I like to be somewhere with an internet connection.
5. I am good friends with my husband's ex-wife. It is not as weird as it sounds, and it sure makes soccer games and birthday parties much more enjoyable.
6. I love to organize, but I hate to clean.

7.I love taking naps. Is napping counted as a hobby?

I have been sooooo busy you guys. I haven't had time to check my home email in almost a week. I have a freebie that I would like to post for Friday, so check back tomorrow.

Heather